It's been a long time since I've done Nodes of Gold entry; the last was in January 2012. It is unfortunately time for another.
**********************
Nodes of Gold is my series of profiles of famous people with Lymphoma. There have been a bunch -- Gene Wilder, Mr. T, some pro athletes, including Red Sox pitcher Jon Lester. "The very rich [and famous] are different than you and me," said F. Scott Fitzgerald. ("Yeah -- they have more money," replied Ernest Hemingway.) But they are the same in one respect -- they can get lymphoma. We should take comfort in that. And we should appreciate when famous people are willing to talk about their lymphoma, because it makes people more aware.
Today's entrant in the Nodes of Gold pantheon is Vivian Campbell, guitarist for Def Leppard. He has also played for the bands Dio, Whitesnake, and Thin Lizzy. But, for me, it's the Def Leppard work that means the most.
Campbell was diagnosed with Hodgkin's Lymphoma in the spring
. He's undergoing chemo this summer, but expects to ply some shows with Def Leppard in the next few weeks.
Now, Campbell joined Def Leppard in 1992, which was way after my own Def Leppard phase. By the time Campbell joined Def Leppard, I was already engaged to be married -- to a young lady with her own Def Leppard stories (but those are for her to tell...). My own history is best summed up in the really skinny union jack tie I wore in trbute to the band, It looked something like this, but about half the width: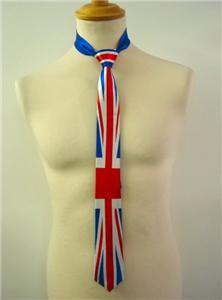 (Also, I was about twice the width of that mannequin back then, which made the tie look even skinnier. I miss
Chess King
. And the 80's in general.)
Now, that last Nodes of Gold that I did was for Tony Iommi, guitarist for the band Black Sabbath. Iommi was diagnosed with "early stage lymphoma" in January 2012 (I still can't find out what type), but he has been talking recently about his experience.
He is now doing some Rituxan Maintenance, and seems to be handling things well
.
Now here's the strange part of all this:
Beside being in bands that undoubtedly contributed to my high-range frequencies hearing loss, Campbell and Iommi have some connections -- parallel careers that touched, but never crossed.
Iommi was lead guitarist for Black Sabbath, led by Ozzy Osbourne. In 1979, Ozzy left Sabbath to go solo. [My father just found my 8th grade yearbook; Ozzy's "Crazy Train" was listed as my favorite song.] Ozzy was replaced by Ronnie James Dio, who lasted with Sabbath for three years. He left and formed his own band, called Dio.
In the meantime, Dio's guitarist left to join Ozzy's band. Who takes his place in Dio? That's right -- Vivian Campbell. Eventually, Campbell left Dio to play with Whitesnake and then Def Leppard. Dio eventually formed the band Heaven and Hell....with Tony Iommi playing lead guitar.
What's the upshot of all of this?
To be more clear -- is there some connection between great guitar players and lymphoma?
Probably not, you say. After all, it's only two great guitarists. But what if it was....
three
?
**********************************
Most importantly, best wishes to Vivian Campbell as he continues his treatments. And more peace of mind to Tony Iommi as he maintains his good health.